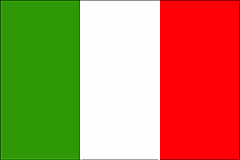 Europe
By geographical approach Europe represents the western appendix of the immense Euroasiatic continent.
It borders the Atlantic Ocean to the West, the Arctic Glacial Sea to the North, the Mediterranean Sea to the South; its oriental borders, object of controversies, can be identifies with the ideal line from the Arctic Glacial Sea following the Urals Mounts, the Ural river, the political border between Russian Federation and Kazakhstan, the western coast of Caspian Sea until the chain of the Caucasus, the political borders between Russian Federation, Azerbaijan and Georgia, the Black Sea coastline until the straits of Bosforo and Dardanelli and therefore to the Aegean Sea.
With an area less than 10 million of square kilometers Europe is the smaller continent after Oceania. The population, esteem 2006, is about 700 million inhabitants, with average density of approximately 70 inhabitants for square kilometer.
44 sovereign countries are part of Europe.
| | |
| --- | --- |
| Albania | Andorra |
| Austria | Belarus |
| Belgium | Bosnia and Herzegovina |
| Bulgaria | Croatia |
| Czech Republic | Denmark |
| Estonia | Finland |
| France | Germany |
| Greece | Hungary |
| Iceland | Ireland |
| Italy | Latvia |
| Liechtenstein | Lithuania |
| Luxembourg | Macedonia |
| Malta | Moldova |
| Monaco | Montenegro |
| Netherlands | Norway |
| Poland | Portugal |
| Romania | Russian Federation |
| San Marino | Serbia |
| Slovakia | Slovenia |
| Spain | Sweden |
| Switzerland | Ukraine |
| United Kingdom | Vatican City |